The most beautiful tourist destinations in Quang Ngai
Thien An Moutain.
An Mountain As a mountain that has long been famous for its majestic scenery and great historical value, Thien An Mountain has long been a destination. attracts many tourists to visit because of the poetic and gentle beauty that it has brought.
Located in a position on the Trang Khuc river basin, about 4km east of Quang Ngai city center, from a distance one will easily see the image of this mountain bearing a very unique appearance. Unique and impressive with the coincidental scenery of the mountains and forests, the most impressive thing is probably the authentic discoveries for everyone who has ever passed through this place. To visit this place more conveniently, renting yourself a hotel in Quang Ngai city will save your travel time.
My Khe Beach.
My Khe beach is no longer a strange name when it repeatedly appears "smooth face" on domestic and foreign newspapers with the title of one of the most attractive beaches. planet. From Quang Ngai town, tourists take Highway 24B about 15km to reach Co Luy village, from here you can easily go to My Khe beach by asking local people.
In recent years, My Khe Beach attracts a lot of tourists from abroad, especially Asian countries such as Korea, Japan, China, Singapore, … There are many hotels with views here. overlooking the sea, very suitable for you to spend your holiday with your loved ones.
Dung Quat Sea.
Known as a place that people no longer feel unfamiliar with the oil refinery area named Dung Quat, however, this place also has a very beautiful and romantic beach.
The innocence of the coast and the romantic scenery on the Dung Quat coast always have something unique that makes many people feel surprised about the peaceful dreaminess of the coast. Perhaps the most wonderful thing for a new journey of discovery is to enjoy the dreamy scenery here and relax back to the sea, back to the gentle nature.
Sa Huynh salt field.
Sa Huynh salt field in Pho Thanh commune, Duc Pho district, Quang Ngai province has been known for a long time through extremely artistic photos of many domestic and international photographers. This place is an important salt granary of the Central region, the salt making profession in Sa Huynh has been in many Vietnamese verses and verses.
Pickled Sa Huynh Duc Pho remember
Listen salty sweat both hands
Amidst scorching sun sky field
Yan picked plying people salt homeland
Coming to Quang Ngai, it will be a pity to miss the experience of visiting Sa Huynh salt village because it will give you the impression and experiences very different from the tourist activities that you are so familiar with. The forest or the sea … So booking a hotel near Sa Huynh beach will be very convenient for you to visit the Sa Huynh salt field.
White Waterfall Minh Long.
Tourist Area White waterfall tourist area is located in Minh Long district and about 20km from Quang Ngai city. The scene here is really impressed by the wild, fresh forest, the waterfall falls in the middle of the surrounding landscape of trees, rivers and streams blowing white foam. Coming to Quang Ngai, do not miss this place because you will have virtual live photos with beautiful view right here.
Coconut Field.
Thanks to the variety and large area of ​​coconut trees, this place suddenly becomes more attractive than ever.
Coming to Tu Nghia Coconut Beach, which is one of the famous tourist destinations in Quang Ngai, visitors will have many opportunities to enjoy a wonderful view along with the opportunity to enjoy the coconut here, fragrant delicious and attractive scenery will bring dream souls back to their childhoods and exciting and fun exploration games.
Perhaps the journey of traveling to this place will make people feel forever remembered and unforgettable, difficult to fade.
Ba Tan Man (Ba Lang An) – Binh Son
From peaceful to poetic features, suddenly a completely new look is changed, it is a place with a rather dear name Ba Tan Man, also known with Another name is Ba Lang An of beloved Binh Son, wonderful beaches and very dreamy scenes that will make those who have ever visited this place feel love and extremely excited, the peace of the sea. always gives withered souls a sense of peace and a unique journey to experience.
Different from what people imagine about the sea, for Ba Tan Man, what people easily feel the most is the strange peacefulness and relaxation that even anyone who comes here to travel is difficult to find. Find somewhere else.
Ca Dam Mountain.
Ca Dam Mountain is an attractive tourist destination that is considered to be no less than Ba ​​Na mountain, but has not really focused on investment in tourism development. In Ca Dam, the temperature is very stable and cool, the climate is favorable, so it is possible to grow a lot of precious plants such as 7-leaf ginseng or tropical vegetables, tubers and fruits.
If you have the opportunity and love to explore the wild and magnificent nature, you should hurry to Ca Dam mountain when it has not been affected by the industry!
Located at an altitude of 1300 above sea level, the pass named Vi O Lak is considered a very typical image of Quang Ngai here, the attraction from the depths of each person. Or simply the dreamy features are increasingly revealed to those who are exploring this land.
The winding roads of the roads together with the romantic atmosphere always bring other beautiful beauty that are difficult to find. The glimpse of beautiful images and rows of green grass growing on both sides of the road when visitors go up the pass are the most impressive and interesting features.
Known as a memorial area of ​​an extremely loved by a late prime minister, this place also has great historical significance but many people are confiscated. attractive, hard to resist whenever returning to the romantic land of Quang Ngai.
The memorial area of ​​the late Prime Minister Pham Van Dong is located in Duc Tan commune – Mo Duc – Quang Ngai, this place is considered to be a place to keep a lot of memories, extremely profound items that make many People visiting will discover many new things and extremely new features. Appreciation and understanding will make it all about His life.
Khe Hai Beach
Like a sickle with white sand beaches, Khe Hai beach is gradually becoming attracting a lot of tourists to visit and explore. Strange dreams or extremely gentle peaceful features always give people an unforgettable feeling about a beautiful and peaceful sea.
The portrayal is always welcomed by a large number of tourists on summer days, birds flying back to nest or the strangely peaceful scenery of Khe Hai sea will make many people feel jealous of the rustic nature. simplicity that this beach brings.
Long Mon Slope.
Long Mon Slope is a pass from Thanh An junction to Son Ky junction. Going on this pass, you will admire the majestic scenery like lost in the Northwest. From here, you zoom down to the scenery below, everything breathtakingly beautiful will make you constantly surprise and take a picture at any angle to produce extremely attractive photos.
Ly Son Island
Ly Son Island is really a Quang Ngai tourist destination that is too familiar for those who love to travel. Ly Son Island also has another name is Cu Lao Re, many people may not know this yet, but this island is a closed crater, so the land around here is extremely green and beautiful.
Ly Son Island is about 40km from Quang Ngai city, this place is famous for the nickname "garlic kingdom" because garlic trees are grown a lot on this island. However, the most popular tourist attraction is the clear blue sea color, the breathtaking scenery. Therefore, there are many beautiful Ly Son hotels with beautiful views to watch the dawn of early morning. Standing in front of that scene, you can feel yourself free and comfortable because the blue of the sea in harmony with the green of the plants always brings peace and lightness.
Sa Can Sea Gate.
Compensated from rivers with beautiful beauty, Sa Can estuary has long been considered an ideal and interesting tourist area for everyone to explore, its tranquility and beauty. Dreaming has brought this place an indelible tranquility for exciting journeys of discovery.
The ships and bustling bustle of the estuary will make those who admire the fresh and interesting features of an unforgettable Sa Can estuary.
Ba Lang An.
Ba Lang An is listed in the list of beautiful Quang Ngai tourist attractions, a scene that is real on the ground, but little known. It can be said that visitors will be really shocked by the beauty of this place with the highlight of a crater located right near the edge of the sea and about 30m2 wide. Looking down you will see brilliantly beautiful colorful coral reefs.
Do you believe enough that these Quang Ngai tourist sites are "beautiful and sad" yet. Quang Ngai is created favorably and endowed with enchanting beautiful places, but has not received too much tourism investment. Therefore, when coming to Quang Ngai, you should remember to visit all these places right away to admire the wilderness of it!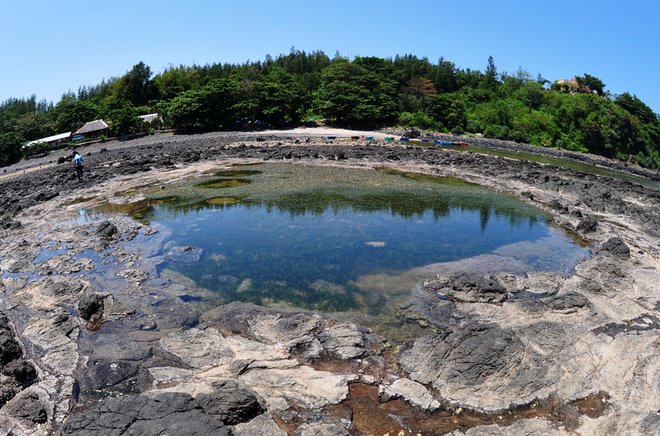 You need a place to stay at an affordable price, immediately refer to the TOP hotels in central Quang Ngai that are receiving great deals below:
Nestled under the immense green coconut trees, Cocoland Resort is like a water-color painting reflecting on the Vuc Hong river connecting to Cua Lo beach. Coming to us, visitors will discover the magnificent beauty of nature in the sunny and windy Central, where the river, sea, earth and sky intersect.