Quang Ngai province is a central province with a long coastline, along with many beautiful landscapes. There are many places to explore tourism in Quang Ngai and this land is also a wonderful choice for those who love this central coastal province. Don't forget to book Resort in Quang Ngai for the clearest experience!
Quang Ngai Climate Quang Ngai
heroic central land is located in a tropical and monsoon climate, with relatively high background temperatures depending on the terrain area but there are certain orders. The climate here is divided into 3 areas: high mountain climate, low mountain climate and plain climate. The annual average temperature is from 25.5 to 26.5 degrees C, with hot peak up to 42 degrees C, cold with no less than 12 degrees Celsius.
In the rainy season, the total rainfall ranges from 2300 – 2600 mm, concentrating in the western provinces of the province: Ba To, Tra Bong, Tay Tra. The rainy season lasts from September to December every year, from January to August with little rain only accounts for about 20% of the total annual purchase. Therefore, this is also the peak hot season, hot weather plus air masses from the West from Laos make the environment even more heat.
Good time to travel to Quang Ngai
The best time for traveling to Quang Ngai is from April to August. The weather is dry, sunny, the scenery is green, especially to avoid wet and wet rains, which are very inconvenient for you. move. The beautiful sunny weather is suitable for many fun activities, landscapes, swimming. Around this time, there will be times of extreme heat, so you need to prepare a full set of furniture, clothing, and accessories to make the trip safe. And especially do not forget to book a room at Cocoland Resort when traveling to Quang Ngai.
You can ride a motorbike or private car when traveling to Quang Ngai, draw the road while walking and enjoying. Note, if your location is within a suitable distance to Quang Ngai, choose a private vehicle, if your personal health does not allow you to choose another vehicle. Moving to Quang Ngai after finding a place to rent a motorbike to go is also a good option.
In addition to private transport, you can choose for yourself a type of public transport to make your trip. You can choose either passenger car or air train. With bus, there are many routes from Hanoi, Saigon to Quang Ngai.
Car companies traveling on Hanoi – Quang Ngai route can refer to: Sao Vang, Quan Trung …
Car companies traveling to the Saigon – Quang Ngai route can refer to: Binh Tam car company, Chin Nghia car company, Hung Thao car company, Kim Thanh car company (contact: 0913 133234), Use Hung car (contact: 0903 678 359), Thien Trang car (contact: 0913 488 989), Huong Thuy car (contact: 0976 578 95 59), Huy Sang car (contact: 0919 21 3509). Before going, you should carefully consult the schedule, ticket prices between car companies, destinations to take the initiative in accommodation and transportation in Quang Ngai.
When traveling to Quang Ngai, you can choose public transport for commuting or rent a motorbike to actively travel. There are several bus routes running in the province such as: Line 01 from Quang Ngai City to Dung Quat, Line 02 from Quang Ngai to Sa Huynh, Line 03 from Quang Ngai City to Sa Ky, Line 05 from City Quang Ngai to Van Tuong, route No. 06 from Quang Ngai to Minh Long, line 10 from Quang Ngai to Son Ha.
If you rent a motorbike, the price of car rental per day is about 100,000 – 150,000 VND / car, depending on the type of car you rent, the price difference.

Tourist sites Quang Ngai Quang Ngai
beach
Quang Ngai is a coastal province with more than 144 km of coastline, so there are many famous beautiful beaches such as My Khe Beach, Sa Huynh Beach, Sa Can Beach, Dung Quat Beach. The beach has an ideal depth for swimming, the scenery is extremely magical and captivating. After swimming, you can enlist to visit historic sites, relics in My Son, Sa Huynh …

Come here you will enjoy countless delicious seafood dishes at reasonable prices. . The people of the sea are mainly engaged in fishing.
The nature of the beaches can be said to be ready to cut any visitor's heart, the blue color is in harmony with the sky, each layer of waves flap when gentle when loud. On the rocky outcrops jutting out into the sea, you can freely pose for beautiful photos.
Ly Son Island
Quang Ngai tourism that you have not come to Ly Son island also looks like you have not traveled to Quang Ngai. This is an island district in Quang Ngai province that is blessed with many beautiful landscapes. To go to the island you can buy a high-speed train ticket to go, every day there are about 3 high-speed trains to the island.
After taking a high-speed boat to the big island, you can contact to hire a fisherman's boat to transfer to the small island to visit, until early afternoon (around 14:00), then go back to the big island.

In addition, on Ly Son island district, there are many other attractions you must visit such as: Hang Pagoda, Mu Cu Islet, Cau Cave, National Flag Pole on Thoi Loi Peak. Hang Pagoda, an ancient temple built under the reign of King Le Kinh Tong, is a space to worship Buddha. But in the past, people told that this was the place where the ancient Champa people built, because in the war, the works were destroyed, the antiques were taken away by the French.
Hon Mu Cu is beautiful and beautiful, like the jewel of Ly Son. Here, the landscape is wild, quiet, and here you will feel like you are immersed in the romantic nature. The sea has an attraction that makes Mu Cu island even more attractive, in addition to enjoying the space you can visit the sand to pick up the shells, drop your feet into the cool water. Having come here, I just want to stop, do not want to leave because the scenery is like in a fairy tale.

Pride bearing the name of the Fatherland is deposited in the national flagpole project on the top of Thoi Loi. The flagpole is 20 m high facing the East Sea, as a testament to the patriotism, which marks the sovereignty of the sea and islands. Who did not ask to come here pay back pride to the country and people of Vietnam and the more love more shaped land S.
Mount Thien
Another place worth taking the wheel to dash to is Thien An Mountain. Thien An Mountain is 3 km from Quang Ngai City to the North, wonderful natural landscapes and attractive landscapes. The mountain is about 136 meters above sea level, with the gentle Tra Khuc River flowing through it like adding a natural silk strip to the beautiful girl. Climbing to the top of the mountain, there is an ancient pagoda built to worship Lord Nguyen, radiating the scent of incense and incense with a fanciful feeling. This mountain is also the last resting place of patriotic patriot Huynh Thuc Khang.
From the top of the high mountain, you can see all the scenes. The mountains here are unspoiled, beautiful and beautiful like the legendary Northwest. In the distance, you can see the rice fields on a large plain, the green color makes the space more fresh. The scenery here really captures the travelers' hearts, can be considered as the masterpiece of Quang Ngai land.
Minh Long White Waterfall
From Quang Ngai City, about 30 minutes by motorbike to the southwest to Minh Long district, there is a place that many tourists often go to is the White Waterfall. The scene here is very airy and cool, with a large, cool natural lake. Summer coming here is a wise choice, all the hot heat will be dispelled. The steam coming out of the waterfall like a natural conditioning system comes close to being extremely cool and comfortable. Standing next to the waterfall without wanting to leave your feet because it is too cool and refreshing. The wild nature here is honestly beautiful and rustic. Water along small rocky ravines from upstream flows together to form a large stream to a high cliff, then cascade into a waterfall.

Water poured from above into white dust, white steam blurred the air, perhaps that is why this waterfall was named White waterfall.
Around the waterfall area, in the past very few people lived. In recent years, a number of Hre ethnic people have come to settle and establish villages, people's lives gradually begin to bustle in this place. This is definitely a destination not to be missed for those who love backpacking.
Water poured down from above white dust released.
Sa Huynh salt
Salt in Sa Huynh had a long life with historical profession over 100 years. It is not too difficult to find Sa Huynh salt fields, going along National Highway 1A you can easily find endless white salt fields. Located in Duc Pho district, this is considered a large salt granary of the country, annually providing a huge amount of salt from 8000 to 9000 tons.

The salt farmers make salt, depending on the weather and climate every year, the salt crops bring high and low profits for the people. In general, the salt profession works hard early in the night, but it is not silver for the people here. In times of hardship, there are salt people sharing, white salt is like the hands of the people, but there are also people who say that white salt is silver in the whole field, salt does not have "silver" for salt.
Currently in Sa Huynh salt village, there are more than 600 salt-making households. Each village house order has been gradually changed more spaciously. Previously, the village was named Sa Hoang, but because the word Hoang was the same as the name of Lord Nguyen Hoang, it was read Sa Huynh.
The landscape here is very unique, the endless white salt fields, the early morning golden sunlight gradually shines on the fields like a giant mirror sparkling light. The scene where people harvest salt, pour salt into a pile, it feels like a mountain of salt is eye-catching. Here you are spoiled for taking photos, especially at dusk and early in the morning, the scene together with the light blends like a quiet but bold landscape painting, an art that can only come from nature.
Long Mon Pass
Conquering Long Mon Pass with the passages of embracing the pass gives you a strong feeling that makes you unforgettable. The scene is extremely attractive, is the ideal "check in" place for virtual followers. You can satisfy your passion for traveling when you come to Longmen Pass, the scenery of trees, the soft curves that embrace the back of the pass. The green trees bear the wild nature of the mountainous region. From the back of the pass, you can see a large area of ​​mountains and hills.
Quang Ngai specialties
Anchovies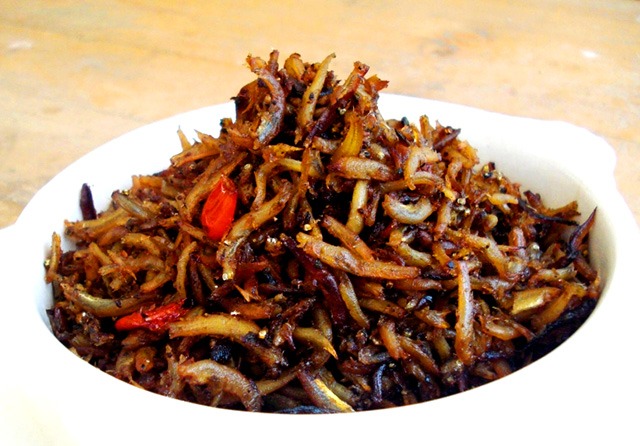 Tuna noodles 

corn noodles in Quang Ngai

Corn ram is a familiar dish in Quang Ngai, this dish is made from meat, shrimp, baby corn, onions, and pepper, mixed well in rice paper rolls. This dish has the aroma of shrimp, bites crunchy pieces, when eaten with sauce and raw vegetables. Come to Quang Ngai and enjoy this dish, you will definitely never forget. A plate of corn Ram is only about 30,000 VND, both delicious and soft at the price.
Scallops Scallops
flavor is extremely fragrant, fatty and sweet. When grilled, sprinkle with a little pepper, chili, and spices to enjoy. Scallop is a natural gift from the sea to eat from one plate to another but do not want to stop because it is so delicious.

Grilled Nien Fish

Fried Cane Bird
Quang Ngai has immense sugarcane fields, where there are Cane birds living, a small god, but the meat is extremely fragrant. This dish is very popular among drinkers, the meat is delicious and the bones are soft and chewable. With about 100,000 VND you can freely taste the delicious taste of Cane bird specialties.
Small birds living in Quang Ngai sugarcane fields
Each eye-catching golden fried bird

Quang Ngai snail
This is a popular dish in Quang Ngai, but the staffing is not easy at all to correct the taste. This dish requires the combination of many different spices, sip each snail and feel the sweetness of the secreted snail juice, the crispy snail meat with the fragrance of lemongrass. With about 20,000 / snail plate, you can enjoy this specialty without getting bored.
Snail plate aroma of spices
Quang Ngai Snail

Attractive snail bowl.